King Johnnie VIP Kash Casino Program
We at Johnnie Kash King casino care about our loyal customers. We want you to feel comfortable on our gambling website and have as much fun as possible playing pokies and other games. That is why we have developed an excellent VIP program that brings you many benefits. This is the best way to reward gamblers who consistently play on our site. On this page, you will find more information about what exactly our King Johnnie casino VIP program contains and how you can get rewards.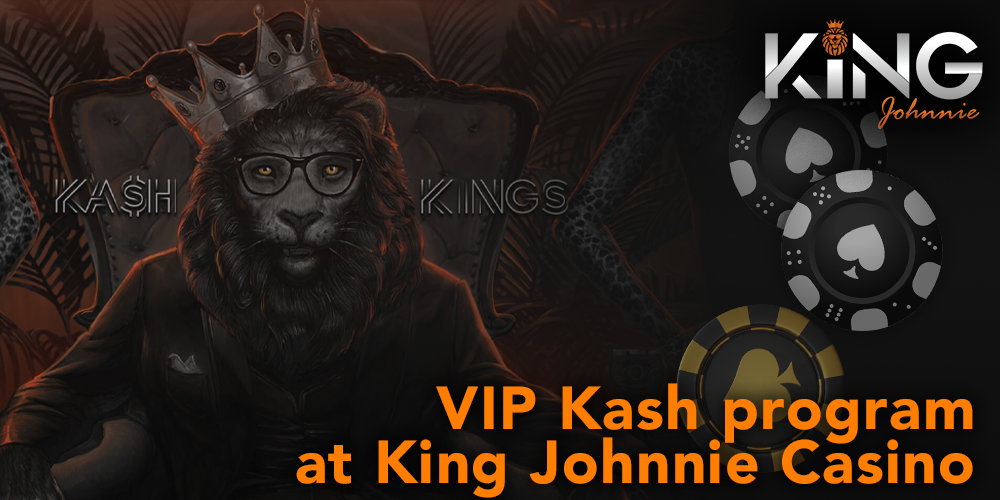 What Is a VIP Kash Program?
Our website King Johnnie Kash rewards Australian gamblers who play with us. The VIP Program is a system in which you need to level up. With each level, you need more and more points to level up. Also, the further you advance, the more rewards you will receive. There are 5 levels in total. You default to start with the first one (Topaz) and work your way up. With each level, the rewards that you receive for participation increase, and new ones also appear.
In the table below you will find all the levels and the number of points you need to level up, as well as the multiplier. This multiplier allows you to quickly earn Treasures, which will be discussed later.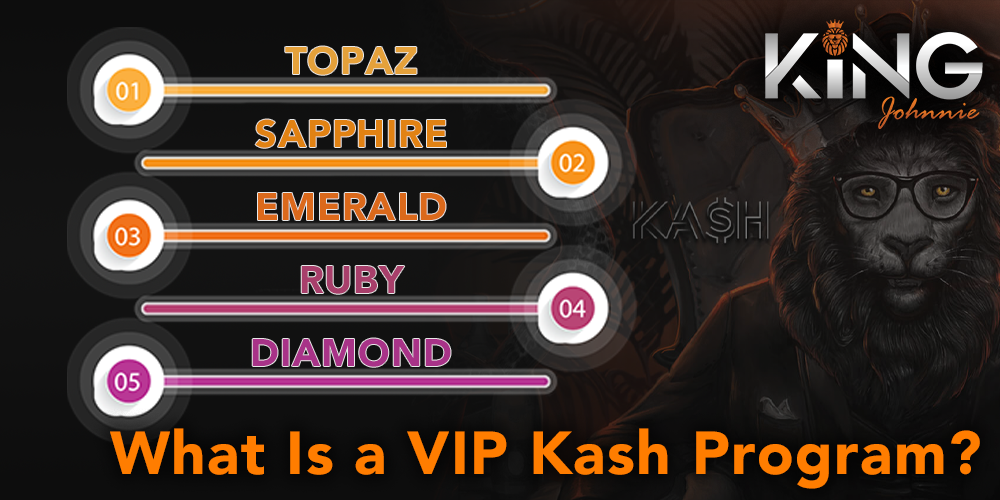 Level
Description
Topaz
Sapphire

Multiplier X1.1;
200 points.

Emerald

Multiplier X1.25;
1,000 points.

Ruby

Multiplier X1.5;
5,000 points.

Diamond

Multiplier X2;
25,000 points.
How to participate in the King Johnnie VIP program?
To participate in the King Johnnie casino loyalty program you need to make deposits and play for real money. For every AU$20 you deposit into your account on our gambling website, you will receive 5 Tier points and 5 Jewels. Also, for every AU$20 you wager in the Video and Classic Slots category, you will receive 1 Tier point and 1 Jewel. The fastest ways to level up are to deposit and play pokies. For playing Tables and Card games you also get points and jewels, but you will have to spend more money on it:
Table games – 1 Tier point and 1 Jewel for every AU$250;
Blackjack and Video Poker – 1 Tier point and 1 Jewel for every AU$1,000.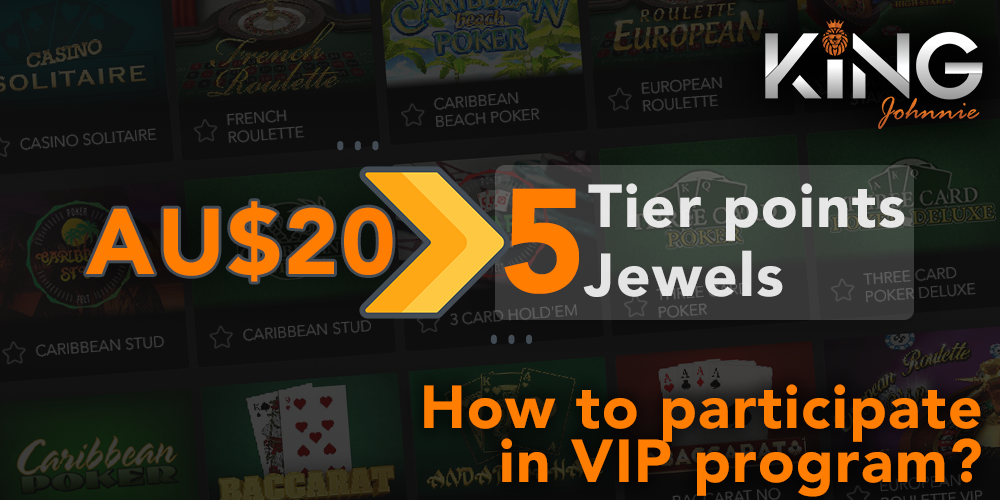 VIP Rewards at King Johnnie
Earned at King Johnny Kash casino Tier points to increase your level, and you can spend Jewels to buy Treasures, which contain cash rewards, free spins, and other bonuses. In addition, as you level up, you get other benefits and rewards, such as:
Exclusive Bonuses – We give out exclusive bonuses to our loyal Australian customers. It can be anything, including no-deposit ones. We send them via SMS to your phone number or to your email.
Bigger bets – As you level up, the amount you can bet with the bonus money increases.
Personal VIP Host – As you progress, a King Johnnie casino VIP personal host is assigned to you. He acts as your personal support agent and is in touch with you around the clock.
Cashback – Once a month you get a cashback, which is a certain percentage of the money you lost. The higher your level, the greater the percentage of cashback.
Bigger and Faster Withdrawals – Along with the increase in your level in our VIP Program, the speed of transaction processing increases, as well as the amount you can withdraw.
We continue to develop, improve, and expand our VIP Program to bring even more benefits to our customers.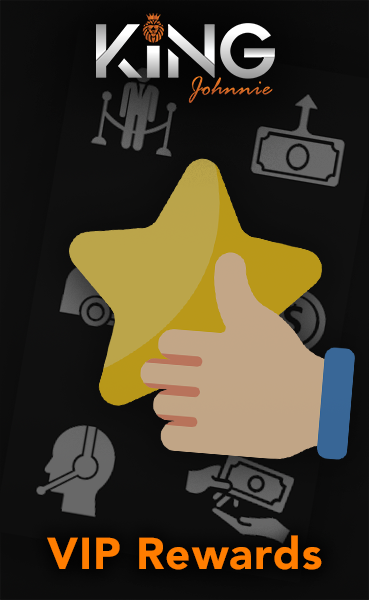 VIP Program Terms and Conditions
There are some terms and conditions in our King Johnnie VIP program that you need to know and pay attention to. We have listed the most important ones below:
To start participating in our program, you need to make at least one deposit;
Johnny Kash Kings Jewels cannot be received by gamblers who cannot receive bonuses in our casino;
Depending on your current Tier, the Multiplier allows you to earn Treasures faster;
Your level will be reset one month after you earn your first point;
Your Tier will match the level you reached last month if not higher in this period;
Johnnie Kash Kings Jewels do not expire;
Each Treasure can be purchased a certain number of times per month.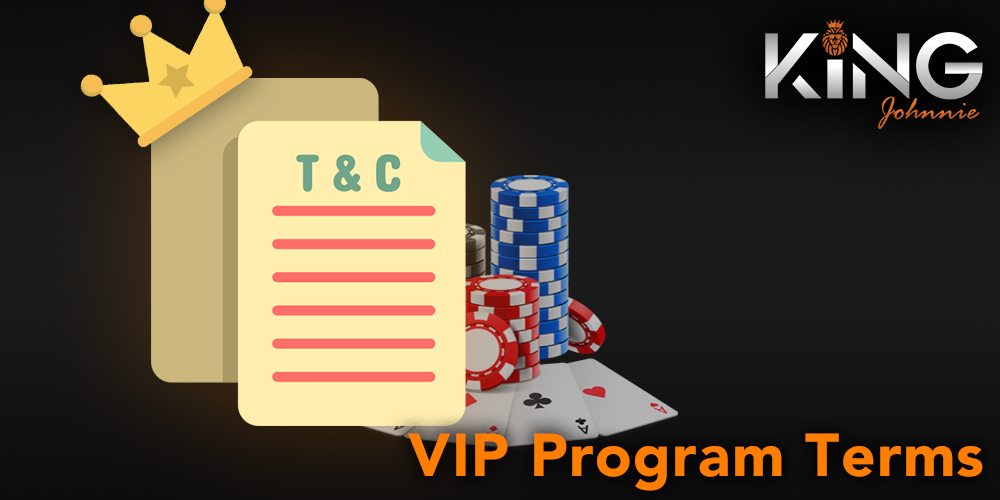 FAQ
Can I opt out of the VIP Program?
King Johnnie casino VIP Program does not oblige you to anything, so there is no need for you to refuse. However, if you really want it, then contact our support team.
Is the VIP Program available to all players?
Johnnie Kash Kings VIP program is available to the same players who are eligible for other bonuses on our gambling website. In short, our loyalty system is definitely available to Australian players.
How much money do I have to deposit to be a part of the VIP program?
In order to participate in the JohnnieKashKings Vip Program, you need to make a deposit of at least AU$20.