Terms and Conditions
The terms and conditions here represent the exclusive, complete and final agreement between you (the player) and King Johnnie. These terms and conditions also supersede and incorporate all previous agreements, representations, and understandings.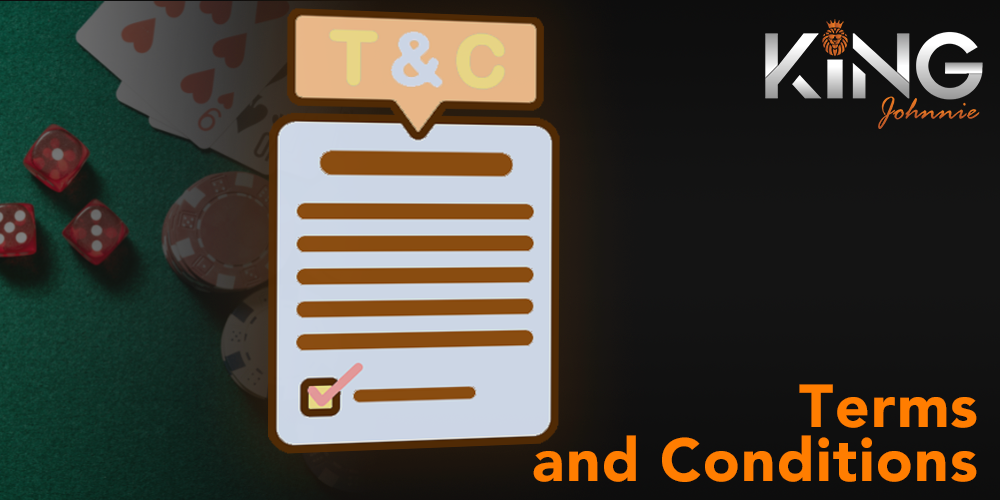 General Terms and Conditions
The original King Johnnie Casino Terms and Conditions are published in English. This article may be published in other languages for information purposes. In case of any disputes between players and King Johnnie Casino regarding the terms and conditions, the information from the English version of the document will take precedence.
King Johnnie Casino provides entertainment services. Clients will not be able to obtain loans or credits here. Any bets and games are made on the player's real money.
King Johnnie Casino unilaterally without notice to clients has the right to change the rules of the promotion or suspend it completely.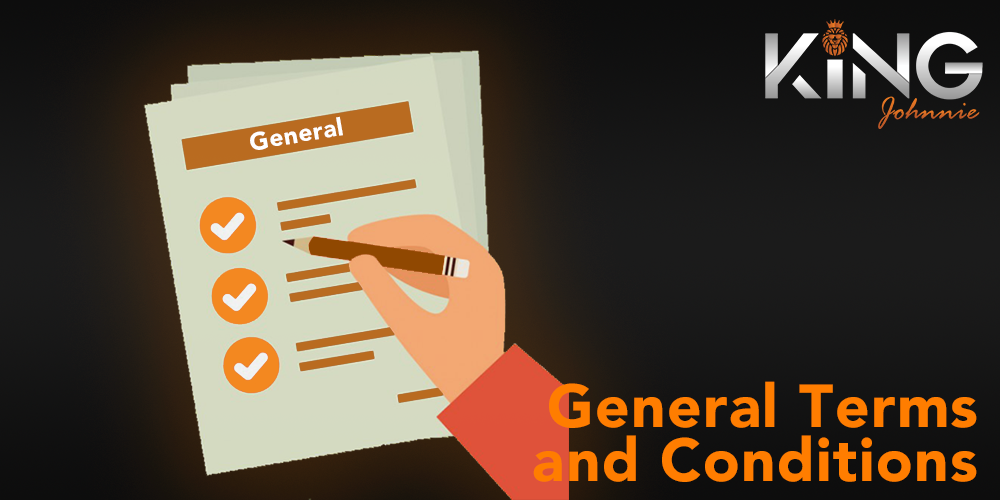 King Johnnie Casino shall take the necessary measures to ensure responsible gaming. We shall not be liable if a сlients has been suspended from gambling on third-party platforms and started playing with us.
We at King Johnnie Casino do not accept any responsibility for the breakdown of equipment or disconnection of the Internet at the client, and also do not accept any responsibility for attempts to play by any methods not provided in our casino.
King Johnnie Casino is not a financial institution, and we shall not pay clients any additional interest on the balance of their gaming accounts.
By creating a client's account in our casino, clients automatically agree to receive email correspondence. You may opt-out of this service at any time, or deactivate it yourself in the settings of the gaming profile.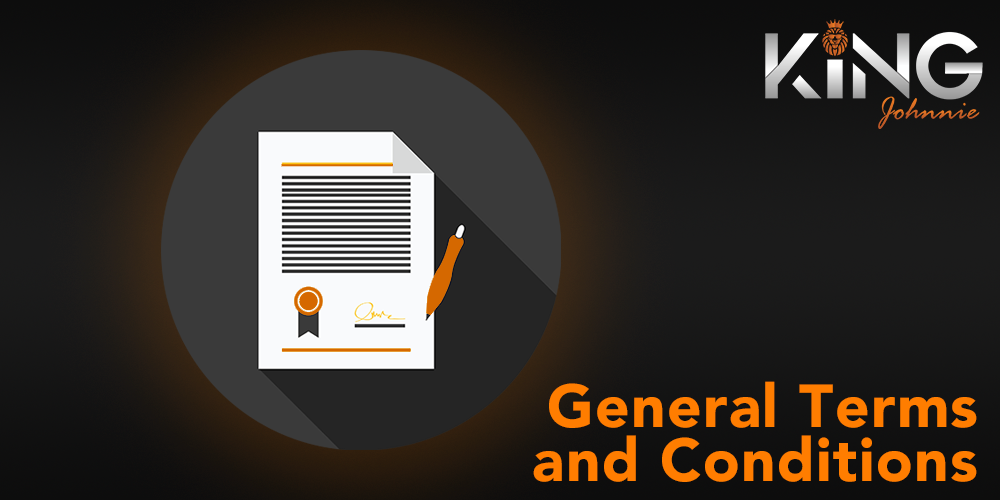 Accounts
It is your responsibility to keep your account information up to date.
We do not accept any liability in the event of losses incurred by the clients due to incorrect information for the transaction.
The client is personally responsible for the safety and security of information on his gaming account at King Johnnie Casino.
Clients have no right to give third parties, especially minors, access to their accounts at King Johnnie casino.
Clients of King Johnnie Casino have no right to deposit to their accounts, not utilizing their credit cards. If the name of the profile differs from the name of the cardholder, the account will be blocked.
It is strictly forbidden to sell or rent your account data to other persons.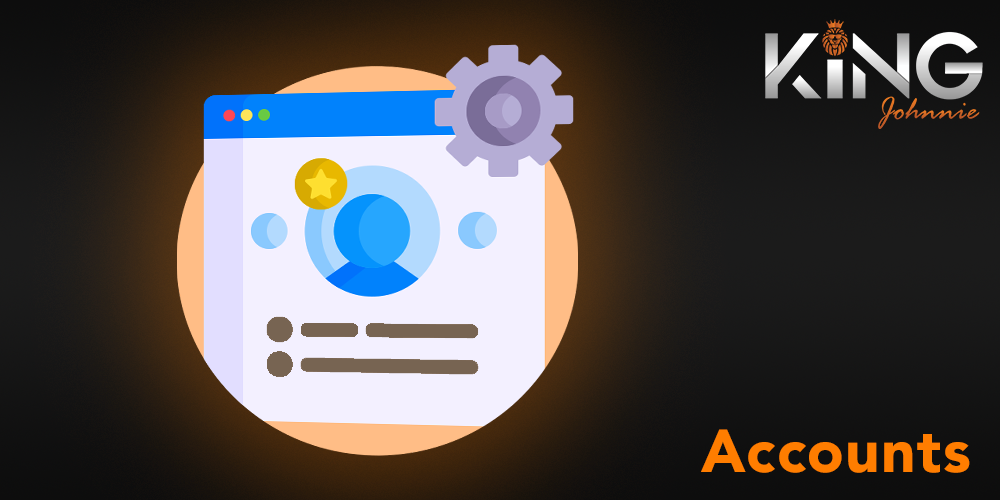 Account cancellation
We reserve the right to cancel or close a player account for any reason, at any time, without prior notice. Any unused player funds will be credited to the specified credit card or another payment method for transferring the balance.
In the following circumstances, King Johnnie Casino reserves the right, at its full and sole discretion, to block any accounts, cancel any winnings and confiscate any balance in the player's account: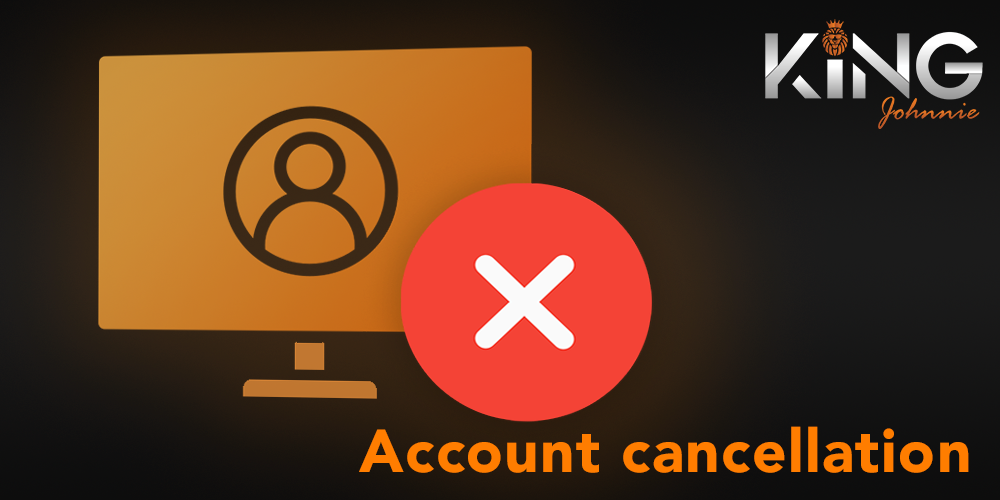 If the player provides incorrect registration information
If the name of the credit card holder or any other payment method does not match the name of the player's account.
If the player has more than one active account at the King Johnnie Casino
If the player cashes the bonus or promotional offer before the necessary conditions and requirements.
If the player "charged back" any of the purchases made with their credit card or any other purchase/banking method;
If the player is under the age limit allowed by the casino (18 years and over) – only players permitted by law in their country may participate in Internet gambling.
If the player has given third parties access to his account.
If the player has used the account for commercial or professional activities, as well as if the player has been found in collusion with other members of King Johnnie Casino.
If it is established that the gaming accounts have been linked using special software.
If it is established that the player cheated and cheated the system of random generation by use of third-party software or scripts that affect the outcome of the game King Johnnie Casino.
If the King Johnnie Casino security service becomes aware that the player has participated in one of the above activities in other casinos.
King Johnnie Casino reserves the right not to close or refuse to register real accounts from certain countries.
King Johnnie Casino does not accept players from the following countries: Belgium, Cyprus, Czech Republic, Denmark, Estonia, France, Hungary, India, Italy, Ireland, Netherlands, Philippines, Portugal, Romania, Slovakia, Spain, South Africa, Sweden, United Kingdom, United States of America.
Account Closing Procedure
A player's account with us may be closed at any time. You may deactivate the account yourself in your player profile or contact our support team.
Upon closure of the account, the player has access to the remaining funds. The player may withdraw the money in any way that is convenient for him.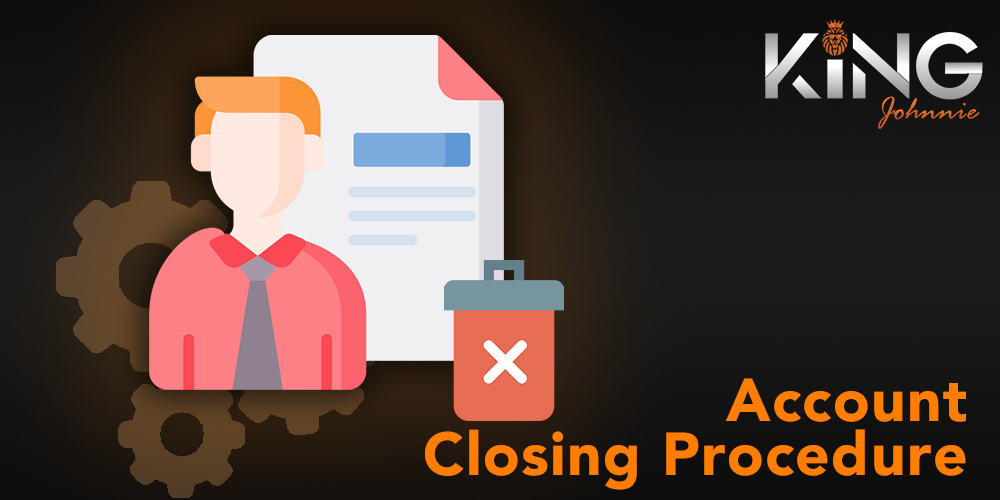 Eligibility to Participate in the Game
To participate in real-money games at King Johnnie Casino, a player must be at least 18 years old. Also, it should be noted that there are many countries where the legislation requires a different age for the beginning of the game of chance. To prove your age of majority, you will need to undergo an identity verification procedure.
We will have the right to request proof of your identity without notice to the player and at any time.
All King Johnnie Casino players acknowledge that the services provided on our platform are for entertainment purposes. Players also acknowledge that no games require you to make deposits or play for real money.
We provide our services to players in jurisdictions where it is not prohibited by law. Players should be aware of the laws in their region and not join King Johnnie Casino using scripts to change IP and mask geolocation.
Our software providers may restrict access to certain regions and countries to certain games without explanation.
All King Johnnie Casino employees, management personnel, and intermediaries providing our platform and immediate family members are strictly prohibited from using King Johnnie Casino.
At our King Johnnie Casino, players have the opportunity to play games without making a deposit.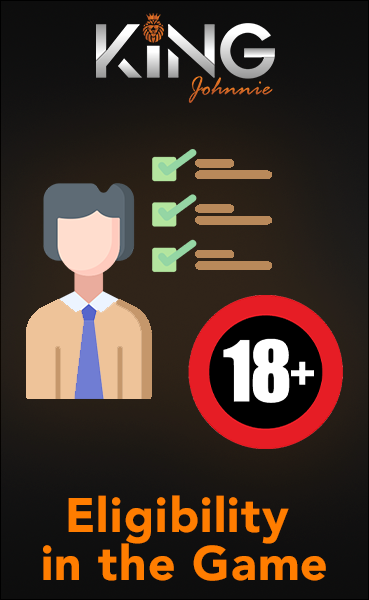 Deposits and gameplay
Any deposit made to a King Johnnie Casino gaming account will be treated as your direct desire to participate in the game.
The minimum deposit amount is $/€ 20 for any bonuses or free spins unless otherwise stated.
In the event of a programming or technical error, King Johnnie Casino reserves the right to void any winnings associated with such error.
We reserve the right to unilaterally block the accounts of players abusing such errors without notice.
Players may use the following currencies for playing and funding the game accounts: CAD, EUR, AUD, and NZD.
Players should consider their geographical territory when choosing their currency.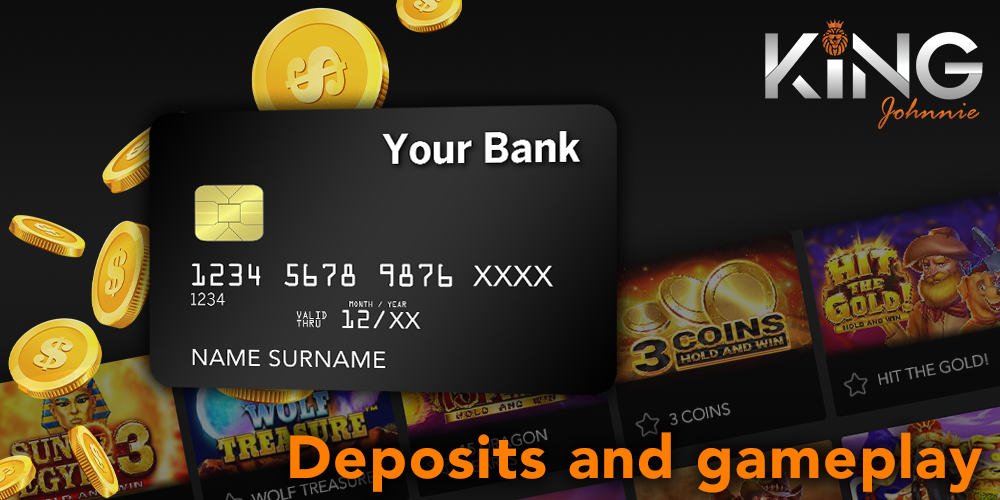 Promotions
Any promotions, bonuses, or gifts do not include automatic extra costs, such as taxes, commissions, shipping, and so on.
Players who receive winnings from our casino are personally responsible for paying taxes according to the laws of their country. It should be noted that additional fees and shipping costs are also the responsibility of the customer.
The player is personally responsible for reading the terms and conditions of the promotions and bonuses of interest.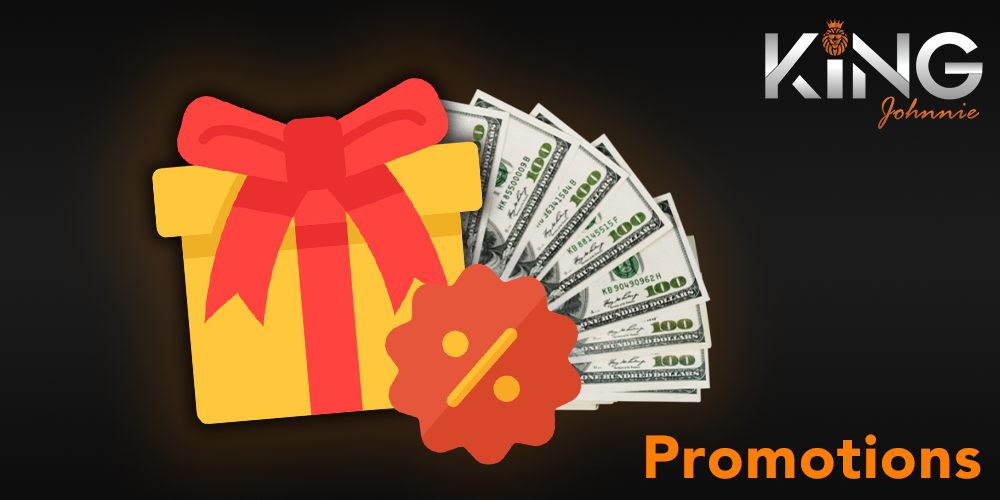 Fraud, Refunds and Abuse
King Johnnie Casino reserves the right to unilaterally block and withhold all amounts related to fraudulent or abusive chargebacks.
We expressly forbid and consider it illegal to deposit money into a player's account using illegally obtained funds.
Any data or information obtained by King Johnnie Casino, regardless of the method of obtaining such data or information, shall automatically become invalid if:
Forged, mutilated, altered, or otherwise fraudulently obtained;
If they are illegible, mechanically or electrically reproduced;
They have been obtained outside authorized legal channels;
If they contain printing, production, typographical, mechanical, electronic, or other defects.
Liability for submitted data and information that is defective in any way is limited to the replacement of that data.
We shall notify the necessary legal authorities of noticed fraud on our platform if necessary for certain purposes.
Every player in our casino is entitled to an explanation as to why his account has been blocked and restricted. You can contact our support team for details of your question.